As a place for learning about the nature of a World Heritage site, we disseminate a variety of information about Shirakami-Sanchi. Our aim is to provide facilities that many people can use.
To teach a class about the nature of beech forests.
To study about Shirakami-Sanchi as a summer vacation homework project.
To learn about Shirakami-Sanchi before hiking through the beech forest.
The Shirakami-Sanchi World Heritage Conservation Center, Fujisatokan is here to support everyone. Our team of nature advisors is on hand to bring our World Heritage forest to life in the most fun and easiest of ways.
Individuals and groups are welcome.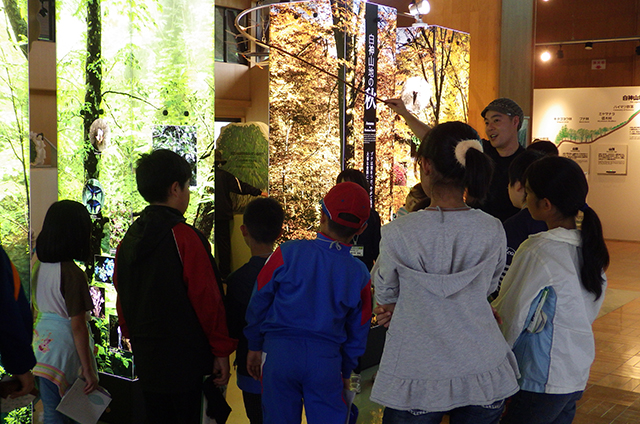 Examples of nature learning
1. Commentary inside the Center
Our staff explain our displays inside the Shirakami-Sanchi World Heritage Conservation Center, Fujisatokan in a way that's easy to understand for individuals, or for educational institutions and other groups.
Time: 30 – 90 minutes
2. Learning about Shirakami
In addition to the above commentary inside the center, exclusively for educational institutions and other groups, our nature advisors use photos taken in parts of the Shirakami Forest not easy to reach to explain the mystique of the World Natural Heritage site.
Time : 60 – 120 minutes